This article was published in the River Management Society's 2020 Spring edition of their print and online journal.
From Otters to Anglers to Itinerant Farm Workers: Looking for What Brings Us Together
Why would the words of a war zone journalist be relevant to river advocates? Photographer and journalist Ami Vitale offers these insights:
If we choose to look for what divides us, we will find it. If we choose to look for what brings us together, we will find that too.
Water in the west is filled with conflict among stakeholder groups who often feel misunderstood and sometimes maligned by each other. There are winners and losers, but too often, rivers and all the life that depends on them are on the losing side.
This had been true for the Deschutes River in Central Oregon, but positive change was finally underway. Then tensions came to a head in November 2017, when the first draft of a Habitat Conservation Plan (HCP) was made public. The plan addresses in part the ESA-listed Oregon spotted frog and proposed changes to the management of the Upper Deschutes.
After years of conservation groups pushing irrigation districts to conserve water and supporting the districts' irrigation modernization efforts, negative reaction to the initial draft HCP threatened to derail the work being done by many, including the Coalition for the Deschutes (CFD).
Driven by our pressing and passionate desire to bring people together to engage in conversation, not conflict, in July 2017 CFD launched the "Shared Vision for the Deschutes."
The Shared Vision brings diverse interests together with the goal of working as partners to achieve:
A healthy, restored Deschutes River
Thriving farms and sustainable agriculture
Robust and vibrant communities
To date, 45* organizations are Shared Vision partners. They include irrigation districts, breweries and outdoor recreation businesses, farms and agricultural businesses, environmental organizations, and hunting and angling groups.
In 2020, we will launch a new Shared Vision program we're calling Share the Vision: Be the Change. Individuals are invited to sign the Be the Change pledge and commit to conserving water in their daily lives. They can also donate to restoration projects and sign up to volunteer on restoration projects organized in collaboration with Shared Vision partners.
Ami Vitale, the war zone journalist, observes:
Stories about people and the human condition are also about nature. If you dig deep enough behind virtually every human conflict, you will find an erosion of the bond between humans and the natural world around them.
From otters to anglers to itinerant farm workers, we all rely on the river. CFD works to convey the message that there are reciprocal relationships between rivers and people, between rural and urban communities, etc. We see the need for a water conservation ethic that is embraced by all of us, an ethic in which everyone understands their individual and collective impacts, and our responsibility to share the water not only among ourselves but with all living things.
These discussions will continue long into the future, but by talking together today, stakeholders will be better positioned to see long lasting positive outcomes for our rivers.
By Gail Snyder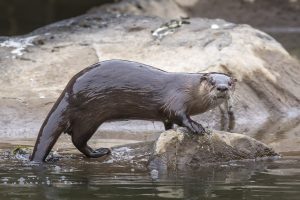 Photo courtesy of Dave Rein.
*Updated to reflect Shared Vision partners as of May 2020 .