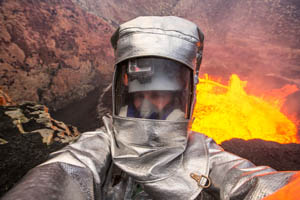 Missed George's talk? You can watch it here.
What: Hold on tight as explorer George Kourounis shares his 20+ years of tracking down and documenting the most fearsome natural forces on planet Earth. Chasing tornadoes in Oklahoma, hunkering down in the eyes of hurricanes like Katrina & Sandy, descending deep into menacingly active volcanoes…George is the guy who runs into places that most sane people run away from, all to showcase the beauty and power of Mother Nature. George will be sharing stories, images, and videos from his most extreme expeditions in more than 75 countries spanning all seven continents.
Curious about George Kourounis
George Kourounis is Explorer In Residence for the Royal Canadian Geographical Society and has hosted 50 episodes of the globally-broadcast TV series "Angry Planet." As a storm chaser & explorer, his adventures have been seen on Discovery Channel, The Weather Network, CNN, BBC, Science Channel, History Channel, and more. He led a National Geographic expedition to fiery Darvaza gas crater in Turkmenistan, the "Doorway To Hell" that has been burning nonstop since the early 1970s. The science mission to look for extreme bacteria led him to become the first and only person to have ever set foot at the bottom of the flaming pit.
George has given TEDx talks worldwide, received several medals for his explorations, addressed the United Nations Environmental Emergencies Forum, and regularly appears in various science and adventure TV shows.
In true coronavirus style, George Zoomed into Bend!